Linda K. Bidlack, M.A., PCC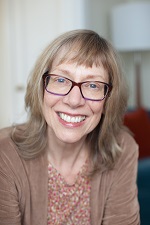 I am a Georgetown University certified leadership coach and consultant passionate about helping people use whatever adversity they're facing as an active laboratory for learning.
My clients tend to be achievers who want to take their impact to the next level, but realize that a shift is required – what got them to where they are now is not going to work as well on a bigger playing field.  I've had the privilege of helping hundreds of people develop capacities they didn't know they had, build their authentic presence and influence, address their blind spots, or wrestle with what they want to do next.
I've been consulting to and/or coaching in mission-driven organizations for 30 years across the federal government, business, and academia including the American Red Cross, Congress, Constellation Energy, Honest Tea, the Intelligence Community, Loyola University, NASA, the National Peace Corps Association, Paypal, Sodexo, and the White House. I've given workshops and helped to launch all kinds of initiatives on peer coaching, resilience, neuroscience, engagement, leadership development, and organization effectiveness.  My design and delivery of a 3-day offsite on changing paradigms for 150 NASA project managers won an award.
In 1990, I earned an M.A. in Counseling from the University of Maryland in partnership with the Center for Creative Leadership, and I currently teach and/or coach leaders for American University, the University of Maryland, and George Washington University.
I have the Professional Certified Coach designation (over 1500 hours of paid coaching experience) from the International Coach Federation and advanced training in coaching teams.  I'm certified to administer the following instruments: The Leadership Circle Profile, Hogan Leadership series, EQi 2.0, EQ 360, OPM 360, Reach 360, Team Conversation Norms Diagnostic, MBTI and the Strong Interest Inventory.
I have an adventurous spirit and have parachuted, backpacked through China, and volunteered in Haiti, where I lived as a child. I'm a trauma survivor and have launched two sons into adulthood.  Based in Silver Spring, MD, I enjoy science fiction, the writings of comedic sociologist David Brooks and social psychologist Jonathan Haidt, and Bang Power Dance.
I'm eager to hear your story and help you get the most from your own challenges.  Reach out for a free discovery session to see if this would suit you.
I'm easiest to reach at lindakbidlack@gmail.com, or call me at 240-446-8884 and leave a detailed message.